Started in 1971, Reliance Fabrications Private Limited (RELFAB), has dedicated five decades in meeting the challenges of steel fabrication for the Process industries. Over the years RELFAB has achieved high level of competence and expertise and has focused towards fulfilling Customers' needs and expectations for industries like, Steel, Chemical, Petrochemical, Refinery, Oil & Gas, Water Treatment, Power and similar other industries.
With great flexibility in the manufacturing processes and adoption of a process approach in developing products, RELFAB has been successful in enhancing satisfaction of its esteemed Customers and establishing its name as one of the reliable and quality conscious manufacturer of equipment and spares for the Process Industries.
RELFAB, registered as an MSME as per the MSMED Act, 2006 of India, is the only small-scale industry in this region having ISO 9001:2015 certification from Lloyds Register of Quality Assurance, the world's oldest and most reputed certification body. Beside this, RELFAB also has approval from various Statutory Government Bodies like Indian Boiler Regulations (IBR), and Chief Controller of Explosives (PESO).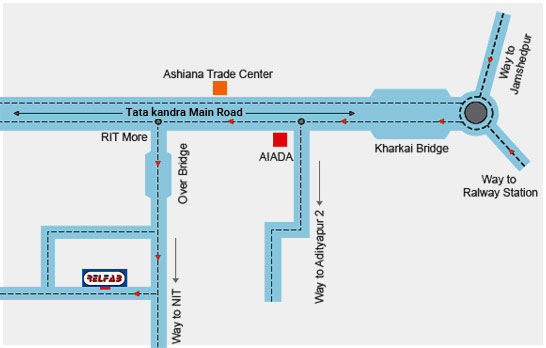 RELFAB is located in the Eastern India city of Jamshedpur in the State of Jharkhand. The Industrial Area of the city is managed by the Jharkhand Industrial Area Development Authority, a Jharkhand State Government Body.
Location of RELFAB gives it an advantage of being in close proximity with various advanced industrial units of the city of Jamshedpur.
One of the most important aspect that we pride ourselves is in the quality of products we provide to our Customers. As part of this commitment, we strive to source the best raw materials and collaborate with reputed manufacturers to ensure that our Customers receive dependable and cost-effective products as per their unique requirement and application.
In this context, RELFAB is working since 2017 as SSAB, Sweden's certified Hardox Wearparts Centre to offer all types of wear parts application services using Hardox and other wear plate products.